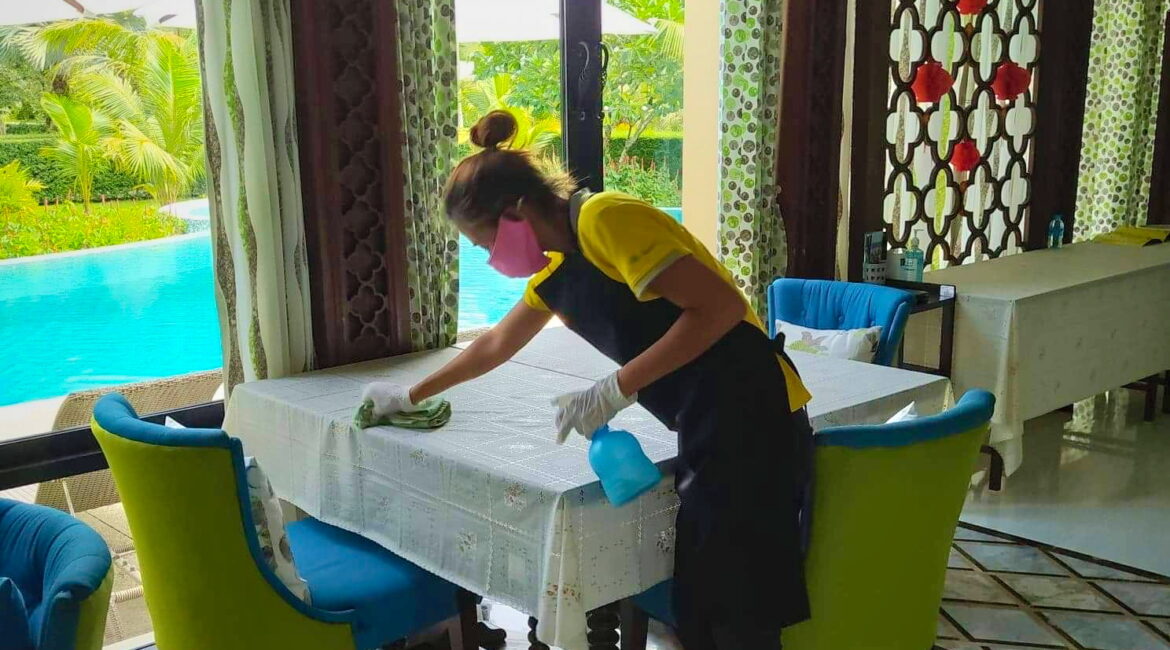 Thailand is OPEN for Tourists
Here at Ataman Luxury Villas we take guest safety with utmost importance. All members of our staff are instructed to sanitize all surfaces of our villas and the public areas, wear masks and rubber gloves, use approved cleaning products, wash all linens at high heat settings and thoroughly clean everything while following Thai government and health experts' approved cleaning checklists. Our spacious beachfront villas are all fully air-conditioned to ensure appropriate air circulation.
Information from Thai Authorities (constantly updated)
Thai authorities are carefully monitoring the situation and are gradually lifting travelling restrictions. The latest update features Quarantine-FREE entry for tourists from a number of countries with high vaccination rates, such as the UK, USA, Canada, Germany, France, Switzerland, Austria, Australia, Singapore, Norway, Sweden, Finland, Denmark, the Benelux Union and many more! The new Phang Nga Sandbox program also  makes it easier for visitors from all the other countries to visit Ataman Luxury Villas without the need to quarantine on Phuket. Please see this FAQ for all the requirements and necessary arrangements.
In addition to that, Thai authorities are planning to remove quarantine requirements for vaccinated tourists  from November 1st 2021 on Koh Kho Khao (this is the island that our villas are located on). There is also a Special Tourist Visa that allows tourists to arrive in Thailand for stays of 90 days or longer with some restrictions. This visa is officially available from September 30th 2020, while normal entry is subject to quarantine requirements until November 30th 2021. You can review the most recent information by checking the following sources:
Thailand Tourism Information (Daily Updates)
List of approved COVID-19 Vaccines
Duration of the Current Quarantine Requirements
Medical Insurance for Foreigner Visitors
Дополнительная информация для туристов из России/Extra Information for Russian Tourists
Situation in Thailand and Koh Kho Khao
While Thailand is having an increase in the number of active cases in Bangkok and other Northern provinces, the island of Koh Kho Khao in Southern Thailand (where Ataman Luxury Villas are located) has been successfully limiting any contact with the Covid-19 virus. With zero confirmed cases throughout the active stages of the pandemic Koh Kho Khao can be considered one of the safest places to stay at right now. The island is perfect for relaxation and quiet holiday, while being isolated from unnecessary noise and overcrowded cities where the infection can easily spread.
Ataman Luxury Villas' commitment to guest safety
Ataman Luxury Villas organises minivan airport transfer services that will bring our guests straight to their villas, avoiding any unwanted contact with other people. Safety is assured and you can start your holiday in no time without any worries.
In addition to that, our Villa Complex is designed to hold a maximum number of 36 guests total guaranteeing limited contact between the residents of different villas. The villas are separated from each other which helps to reduce the unnecessary contact even more.
Food at Ataman Luxury Villas
Food safety has always been one of the most important aspects of Ataman Luxury Villas. The chef makes sure that the food is always fresh and is supplied from tried and trusted local sources. Our guests can order food to be served at Ataman's private restaurant (which only serves the customers that stay at Ataman Luxury Villas) or be prepared and brought directly to their private villa's dining room, thus eliminating any need for travelling and looking for safe places to eat.
Our flexible booking policies
We have relaxed our cancellation policies and customers that book on our website or contact us directly can enjoy flexible and extra-valuable deals on the holiday of their dream! Tourists travelling from abroad get an extra layer of safety in the case of any Thai government policy changes, where any prepaid deposit is saved and can be used to secure a reservation for a later period without any penalty. If you have any questions, please do not hesitate to contact us directly. We are here for you and always happy to assist with any of your concerns!
You can also follow us on Facebook, Instagram and YouTube to get the latest updates about our villas!