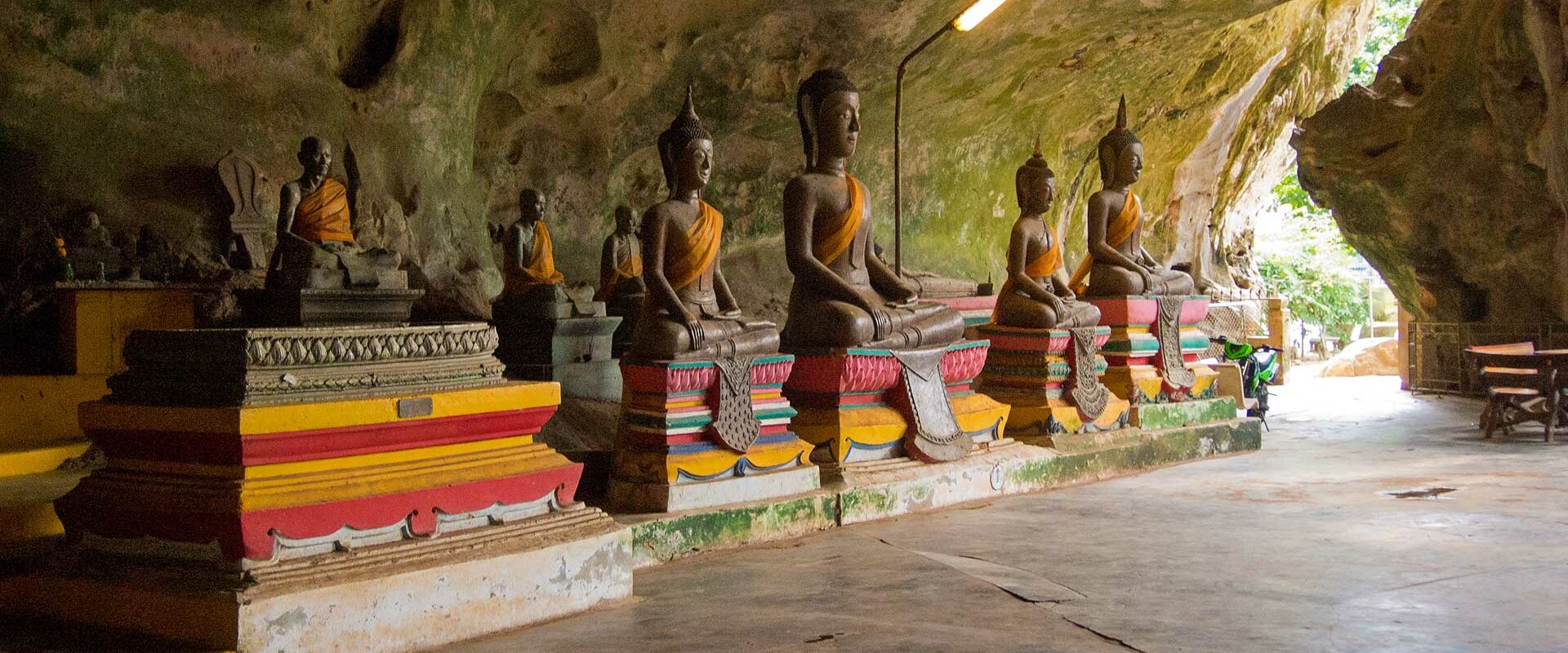 Buddhist Temples of Phang Nga
There are countless reasons why you would want to visit the Kingdom of Thailand. Many tourists come here for the warm equatorial climate and pristine waters of Andaman Sea because they crave for a relaxation paradise that is best experienced when relaxing on various Thai beaches. Others visit Thailand in order to get a taste of the world famous Thai cuisine that always ranks very highly in any popular food polls, such as recent CNN Travel poll from 2021. Breathtaking Thai Nature is yet another reason for many photographers and enthusiasts to travel to the most remote corners of Thailand so that they can discover countless species of animals and plants for themselves. However, there has definitely been a recent increase in popular demand for exploring what Thai and Buddhist cultures have to offer and that is what Phang Nga province in Southern Thailand is very well suited for.
Ataman Luxury Villas and local Tour providers
The temple tours that are offered by the local travelling agents here are becoming one of the main attractions in Phang Nga and that is especially true during Low and Shoulder Seasons (from April to October). We, at Ataman Luxury Villas on Koh Kho Khao, work closely with the tour providers in order to help our guests get the most from their visit to Southern Thailand. Usually, a trip like this would start in the morning and end in the early evening (with a stop for lunch around the halfway point of the tour) so that there is still plenty of time for you to rest, have dinner and relax after you are back at your own beachfront private villa.
Temple Tours in Phang Nga
While there a lot of temples in Phang Nga province, some of the best ones to visit are usually Manee Sri Mahathat Temple, Suwan Khuha Temple, Bang Riang Temple and Tham Ta Pan Temple, and all of these are fairly close to Ataman Luxury Villas and are perfect for getting to know more about Thai culture. As there will be a lot of walking around the temple grounds, it is a good idea to bring some sun and mosquito protection, suitable and comfortable footwear, as well as a camera to take some great pictures. It is also important to remember about the traditional dressing norms in the Buddhist temples, which means that your knees and shoulders should be covered up (i.e. no shorts or sleeveless shirts). The tour will normally include the transfers to and from Koh Kho Khao, life insurance, National Park fees and an English tour guide. Tour guides for other foreign languages might also be available but are not guaranteed.
Here is some extra information about the aforementioned temples that you might want to know:
Bang Riang Temple
Wat Bang Riang is one of the largest temples in Phang Nga province (109 meters in height) and is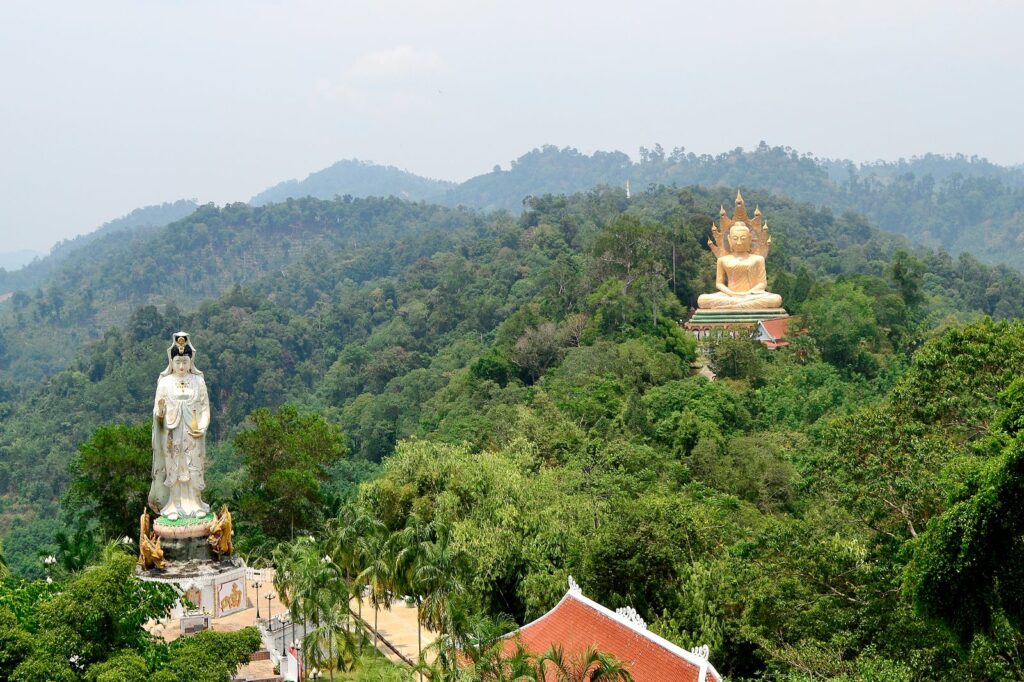 famous for its unique blend of Thai, Chinese and Jedi pagoda that is shaped almost like a bell. It is located on top of Khao Lan Mountain featuring breathtaking views and is ideal for taking some truly stunning and memorable photos of the surrounding nature. Here you can also see a large statue of Buddha that sits under the seven-headed serpent Naga and also the statue of Guan-yin, the Chinese Goddess of Mercy. Quite a few notable and sacred relics of Buddha and Guan-yin are kept in and around the Bang Riang temple as well.
Besides that, the temple is filled with numerous smaller carved golden Buddha statues, paintings and carvings featuring monkeys. An interesting fact about Wat Bang Riang is that its construction was originally requested by the locals from Abbot Lung Por Chai in order to help with a funeral. That is reflected in the original name of this temple – Wat Rat Uppatham (a temple with the support of the locals).
Suwan Khuha Temple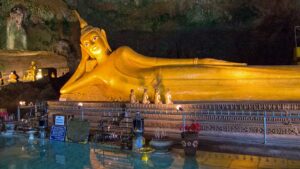 Wat Suwan Khuha, which is also known sometimes as the Monkey Cave Temple, is another popular tourist destination in Phang Nga province. The local macaque monkeys will often greet the tourists in front of the gigantic caves that lead into the temple grounds, which are built directly into the limestone mountain range. The main cave, Tam Yai, that is about 40 meters long and 20 meters wide, houses a golden reclining Buddha shrine, which is about 15 meters tall, and some smaller Buddhas located nearby.
Other smaller caves are beautifully decorates with crockery, ceramic tiles and several other images of Buddha. Nature enthusiasts will also find some scenic views at the upper levels of the Light and Dark caves that lead directly into the nearby forest. This is the perfect time and place to get some memorable photos from this temple tour back to your private villa on Koh Kho Khao.
Tham Ta Pan temple
Wat Tham Ta Pan, often called Heaven and Hell temple, is located in Phang Nga town. The name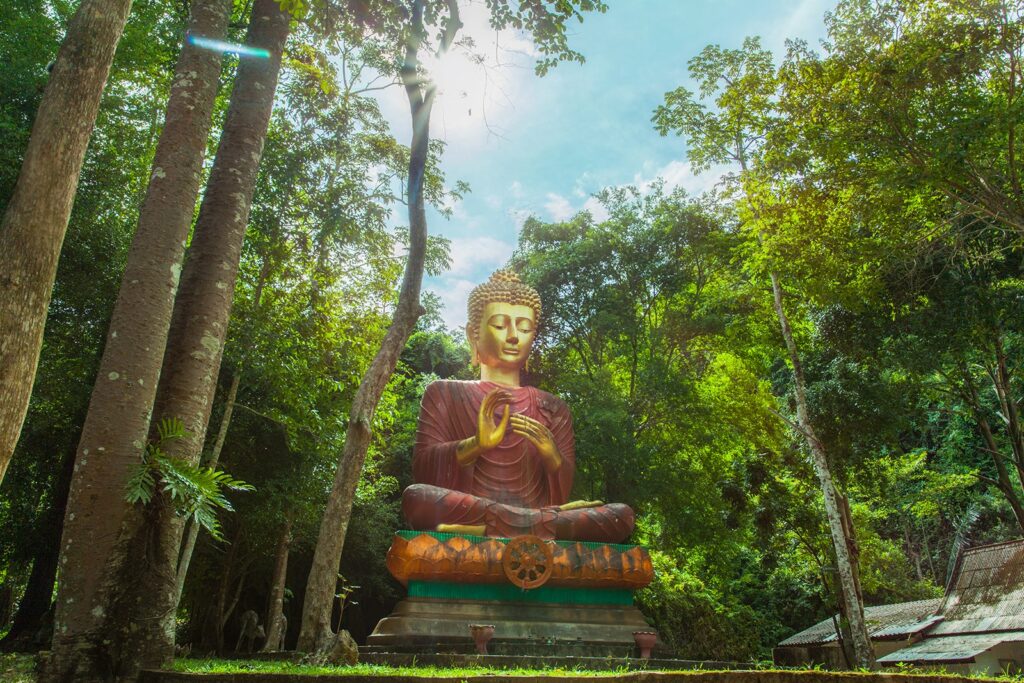 references the way the temple portrays the Buddhist versions of Heaven and Hell. At first glance it can seem like an abandoned temple to the naked eye of a traveler, but it does add a lot to the unique atmosphere created by the many sculptures that you will see here. The entrance greets you with 5 statues of monks that each holds a bowl representing one of 5 human desires: wealth, beauty, happiness, health and cleverness. A legend says that if you succeed in landing a coin into one of the bowls, you will be granted the corresponding wish.
A lot of the sculptures depict the horrors of the punishments the poor souls are subject to in Hell. Sin Park serves as the best and slightly disturbing representation of such punishments in Tham Ta Pan temple, with some very vivid scenes on display at times. The Heaven part is represented by the tunnel where you enter through a head of the Dragon and walk through a cave that is supposed to lead the sinners to take the good and faithful path of life, and adhere to the Five Buddhist Moral Precepts. In another cave nearby there are also Buddha statues that symbolize Heaven.
Manee Sri Mahathat Temple
Wat Manee Sri Mahathat, located in Takua Thung district of Phang Nga, is one of the newer Buddhist temples and has been constructed in about 8 years after the infamous Indian Ocean Tsunami hit in 2004. The temple is easily recognizable by the massive black monk statue that can be visible from a long distance away. It is said that he was one of the favourite monks of the King of Thailand and died at the age of 94 in 1970. In addition to that, it is also believed that he was gifted with prophetic abilities and accurately predicted many future events during his lifetime.
If you walk around the temple grounds you will come across a museum containing multiple life-sized wax statues of other famous and very realistic looking monks, some of which lived up to several hundred years ago. Also, you will be greeted by a 9-face Buddha when you enter the building. In order to prevent the wax statues from melting, a special air-conditioning system has been installed in the temple buildings for this purpose.
Book your own Beachfront Private Pool Villa
Here at Ataman Luxury Villas, we can help with organisation of your own private trip around the Buddhist temples of Phang Nga province. In the meantime, you will be able to enjoy a comfortable and quiet stay at your own luxury private pool villa, while relaxing on one of the most beautiful beaches of Andaman sea! Contact us directly in order to get the best price available online for our private beachfront villas with private pool and sea view!
You can also follow us on Facebook, Instagram and YouTube to discover more about our villas!
When you book directly with Ataman Luxury Villas, there are some extra benefits waiting for you

Flexible booking policies where you can rebook with us for a different date without any charges or penalties.

Deals with up to 30% discount on your stay.

Extra 10% discount on food, drinks and massage.

Additional help with trip/activities planning and organisation.

Free airport transfer for stays longer than 15 nights.