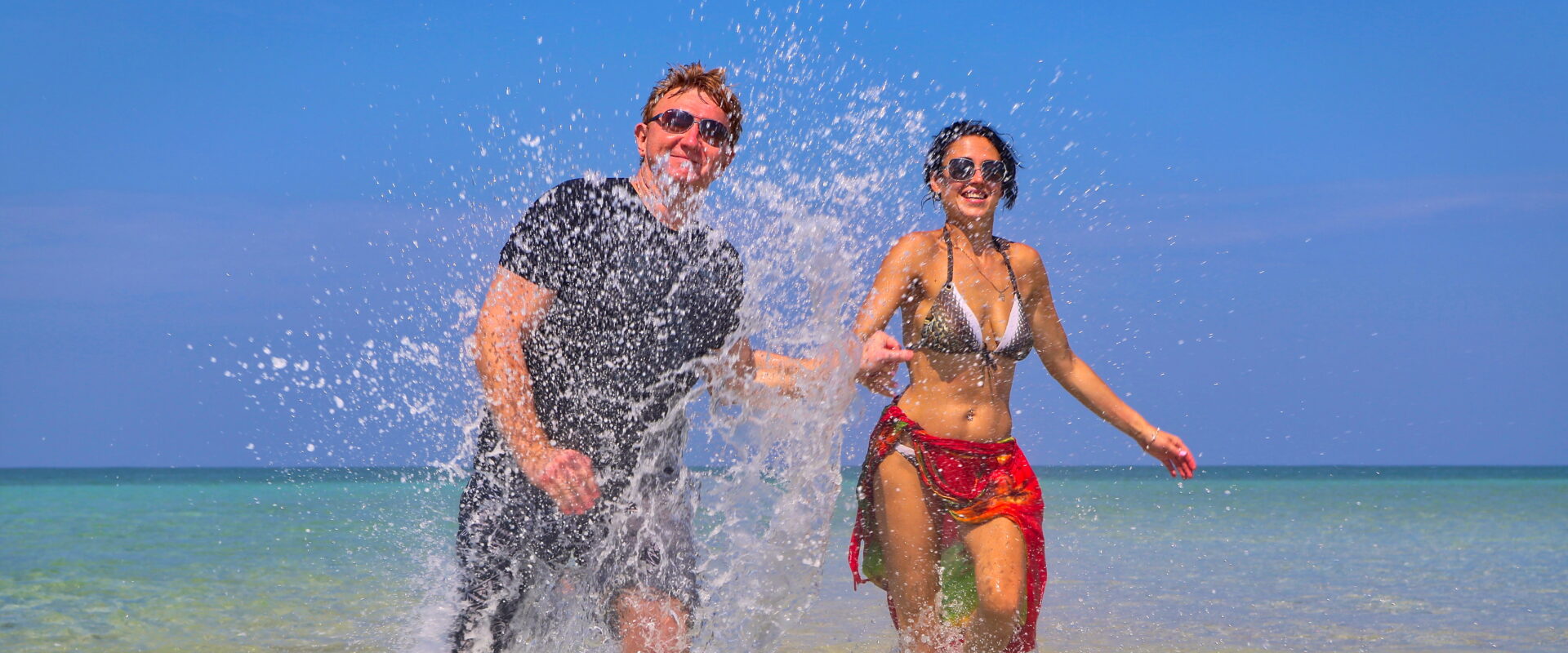 Ko Pha – Relaxation on a Deserted Island
Ko Pha Island is one of the numerous deserted sandy Andaman Sea islands located in the Southern part of Thailand. When staying at Ataman Luxury Villas it takes only about 15 minutes by a long tail boat to reach Ko Pha and it is often visible from a long distance during the day. The boat will arrive right at our private beach and within only a couple of minutes you are ready to go!
The island is very popular with our guests during the High Season (October to April) and only takes a few hours from your day at most. Typically you will set off at around 9 AM and will be back for lunch at your beachfront private pool villa at around 1-2 PM.
What is the Trip about?
The program for the trip usually includes snorkeling, exploring/resting on Ko Pha's clean and beautiful beach, with some fresh seasonal fruits prepared for you by the captain, and some fishing. You can customize how much time you would like to spend on any of these activities or skip some of them altogether. This way you can get maximum enjoyment out of your visit to Southern Thailand.
An important advantage is that not many tourists visit Ko Pha and chances are high that it will be just you and no one else, both on and around the island for the full duration of the trip. That means that for a fraction of a cost of a trip to Tachai, Similan or Surin islands, you get this unique privacy that is impossible to achieve when visiting those much more popular destinations. This makes Ko Pha ideal for a quiet and relaxing experience where it is just you and the nature, no distractions.
In addition to that, fishing in Thailand is a very engaging activity even if that is your first time doing it! The captain will help you with attaching the fishing bait to the pole and then the whole process happens surprisingly fast. Very often it will take less than a minute for you to wait until fish will try and snatch the bait from the hook of the pole so that it can be caught. Even complete beginners get a grasp of the process very quickly and it often becomes a friendly competition on who can catch the most fish! After you return back to Ataman Luxury Villas, our chef can cook all of the caught fish for you whichever way you prefer.
Coral Reefs and Local Wildlife
Furthermore, the waters around Ko Pha are very clear and the nearby coral reefs are visible even before you get in the water for snorkeling. It is very shallow around the island which allows visitors to easily see all the natural wildlife that lives in the area.  Also, depending on the time of the year and the moon cycle, parts of the island may be underwater.
Among the fish that inhabits the coral reefs here you can often see clumps of famous Clown Fish, beautiful Moorish Idol, Powderblue Surgeonfish, Sea Urchins, various types of Grouper Fish and many other species of exotic fish native to Southern Thailand. Sometimes you can even meet some manta rays or turtles if you are really lucky!
Book your own Beachfront Private Pool Villa
Here at Ataman Luxury Villas, we can help with organisation of your private trip to Ko Pha island. In the meantime, you will be able to enjoy a comfortable and quiet stay at your own luxury private pool villa, while relaxing on one of the most beautiful beaches of Andaman sea! Contact us directly in order to get the best price available online for our private beachfront villas with private pool and sea view!
You can also follow us on Facebook, Instagram and YouTube to discover more about our villas!
When you book directly with Ataman Luxury Villas, there are some extra benefits waiting for you

Flexible booking policies where you can rebook with us for a different date without any charges or penalties.

Deals with up to 30% discount on your stay.

Extra 10% discount on food, drinks and massage.

Additional help with trip/activities planning and organisation.

Free airport transfer for stays longer than 15 nights.